Youth Clubs
From September 2020 Manchester Settlement will be offering new covid-secure youth and family activities.
To register your interest follow the link below: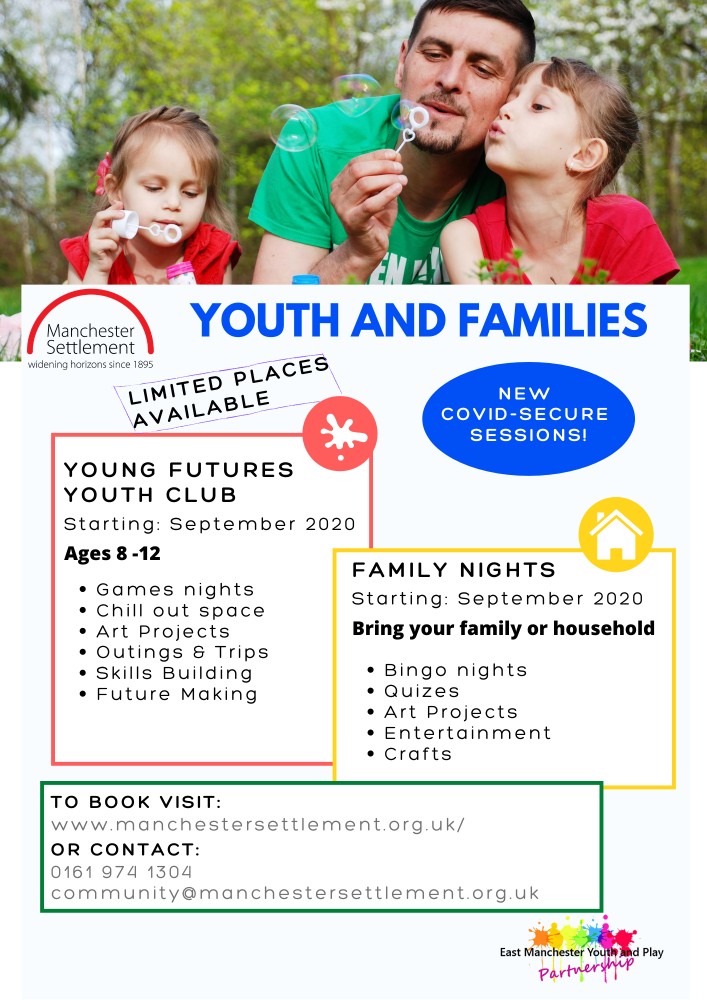 What are Family Nights?
• We will now be offering Family Nights. Bring your family or household along to the centre to enjoy, games, quizzes and much more.
• There will be limited places available for Family nights places will be given on a first come first served basis.
.
Dates and times to be confirmed subject to local restrictions
What is Young Futures?
Young Futures Youth Club runs weekly at Manchester Settlement. It's a FREE, safe space for young people to play, meet new people and take part in exciting new activities. Young People have the opportunity to take part in arts, crafts, sports and local trips. The youth club sessions are currently free to attend, snacks and drinks are 50p.
Who can go to Young Futures?
Young Futures, is open to children aged 8 - 13 years.
Where does the club take place?
Young Futures Youth Club takes place at Manchester Settlement
Manchester Settlement, Ashton Old Road, Openshaw, Manchester, M11 1JG
Young Futures Youth Club
• Wednesdays, 6pm – 8pm
• Ages 8 – 12 years
Please note, due to the Covid-19 Outbreak, Young Futures Youth Club is currently closed until further notice
Manchester Settlement offers Karate classes for children aged 7+
The classes are led by a fully qualified instructor who is skilled in martial arts as well as working with children and young people.
During the class children can learn techniques in discipline, movement, focus and partner work. Regular award ceremonies are held to award belts to children as they progress.